UITA is the stamp of United Indian Traders Association, which was formed in 1931 for the express purpose of authenticating Native American Indian crafts.  Works that have this stamp are becoming more & more collectable.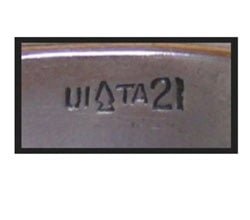 UITA Or sometimes  as shown above UI (arrowhead) TA
UITA 1 Gallup Mercantile, Gallup
UITA 2 C G Wallace, Zuni
UITA 3 Bert Staples
UITA 4 Fred Harvey Co
UITA 5 ?
UITA 6 Don Smouse Borrego Pass Trading –Northern New Mexico
UITA 12 Frank& Al Packard, Santa Fe
UITA 15 ?
UITA 17 Hubbell at Ganado & Oraibi
UITA 18 (21?) Cousins Bros, Pine Springs
UITA 21 Julias Gans Southwest Arts & Crafts/Plaza in Santa Fe NM
UITA 22 Toadalena
UITA 29 Hubbell at Windslow
UITA 31 ?