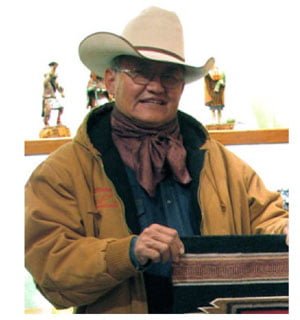 Thomas Curtis
Navajo Thomas Curtis (     -2015)
Thomas Curtis lived a traditional life on the Navajo reservation, where he found inspiration for his jewelry by "looking at the ground, the sky, the plants, and the four seasons." He was one of the industry's premier silversmiths".
The classic Navajo jewelry designs of Thomas Curtis reflected his upbringing in a family of talented silversmiths. Thomas Curtis began crafting traditional Navajo jewelry at only 12 years of age. Today, his heavy-gauge silver jewelry speaks to collectors who value skillful silver work with precise hand-tooled details. He still creates all his own die sets (stamping tools), which make the patterns on his jewelry uniquely his.
His deep-rooted respect for his craft has earned Thomas many awards for his Navajo jewelry and impeccable sterling silver boxes, since his first year at Santa Fe Indian Market in 1984. Countless ribbons including Best of Division, First, Second, and Third Place awards. His daughter Jennifer Curtis learned her skills from her father and carries the traditions on for future generation.
He will be missed.