LEEKYA DEYUSE (1889-1966)
Leekya Deyuse is unquestionably the most famous of the Zuni Carvers.   One of the most expert and innovative carvers of his time, to this day his works command the highest prices by collectors and museums alike.  Sotheby's sold a necklace with turquoise leaves set in silver, well in excess of $35,000.00.
His carving legacy lives on through his children whom he taught to carve and who are now or were master jewellers or carvers in their own right.  His grandchildren in this instance Juanna Homer, also a carver is carrying his legacy into the future.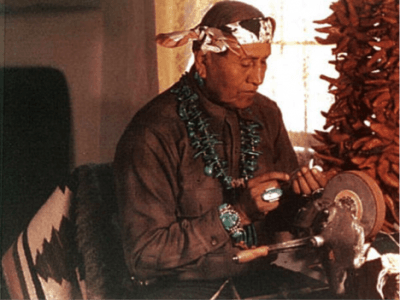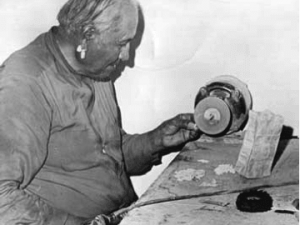 During the 1920's Leekya worked on the excavations of Hawikuh Ruins, or Hawikuh, located within the Zuni reservation.  This exposure to these ruins is believed to have greatly influenced his carvings.  Below are quotations from  "Zuni Fetish Carvers The Mid-Century Masters" by Kent McManis. (page 16)
Leekya began carving fetishes by the 1930's.  Although C.G.Wallace who sold most of Leekya's early work, helped make him famous, Leekya also worked with Kelseys, the Vander Wagens, the Kirks, John Kennedy, and Joe Tanner.
"Rubenesque" seems the term best applied to many of Leekya's fetishes.  Sharp edges rarely appear and fine detail gives way to stylized suggestion.
Also diagnostic are open mouths often with exposed tongues.  Whilst he favored bears as subjects Leekya also produced wolves or coyotes, wonderful livestock fetishes and birds that often appear quizzical.
Leekya used a variety of carving materials, and he worked stones in many ways.  For C.G.Wallace, the Kirks and the Vander Wagens, he made fetishes that were set into jewelry. He made nugget and stone tab necklaces as well as many stringing fetishes.  …….Leekya carved turquoise leaves for jewelry or for use as necklace elements and sometimes collaborated with other artists…
He worked most of his life at home with simple hand tools, but late in life Leekya adopted electrical equipment.