Dan Simplicio (1917 – 1969)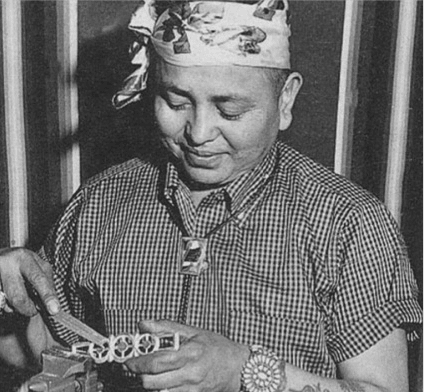 Insert below is from the Kennedy Museum of Art
Dan Simplicio learned jewelry making from his uncle, Juan Dedios.  He, in turn passed  his  knowledge on to younger Zuni artists, including his son Mike Simplicio and his nephew Juan Calavaza.  One of the most innovative and wide-­‐ranging Zuni artists, Simplicio was  the first to develop styles and materials usage that have since become commonplace.
He collaborated with a number of the most widely recognized masters of Zuni art, including LeekyaDeyuse, Teddie Weahkee, LeoPoblano, Bernard Homer and Lee Edaakie. Early in his career, Simplicio worked a C. G. Wallace's Zuni trading post, grinding and setting stones. Wallace collected his work; and when his collection was auctioned at Sotheby's
in 1975, it included more than 50 pieces by Simplicio.
Simplicio was the first to use branch coral in its natural form and the first to set rough cut coral nuggets on rings.  He  originated the nugget style around 1948, in an attempt to make  cheaper commercial imitations of Zuni jewelry more difficult, and  he introduced extensive use of leafwork in Zuni jewelry. While Simplicio learned to carve leaves from Juan Dedios, his son, Dan Simplicio, Jr.credits his father's World War II army service in Europe with the development of this innovation. Stationed in France, Germany and Italy, he observed the use of leaf work in classical and modern Western European sculpture.
The present generation of Simplicio family jewelers have carried on the use of the distinctively curved leaves that Dan  originated.  However,  their leaves curve in the opposite direction from his,  making it easy to distinguish their work. Simplicio's jewelry has a highly individual  look,  resulting from its distinctive use of deep  red branch  coral with intense blue turquoise.  Silver leaf work and stamped drops add  texture and detail, creating a delicate counterpoint to the heavier turquoise and branch coral.